Vessels of Memory: Earth Sounds in the Work of Arturo Araujo, S.J.
Manresa Gallery
October 23, 2016 – January 29, 2017
Vessels of Memory: Earth Sounds in the Work of Arturo Araujo, SJ
Manresa Gallery is pleased to host Vessels of Memory, featuring the visual and sound-based work of University of San Francisco faculty Arturo Araujo, S.J. In the four alcoves of Manresa Gallery, Araujo explores the concepts of fragility, earthiness, ecology, and forgiveness through his diverse and community-based artistic practice. Through video, sculpture, sound, and interactive installation, Vessels of Memory prompts a multi-faceted contemplation of culturally-specific death rituals, nostalgia, and global environmental crises. Connecting closely to Pope Francis' second encyclical Laudato si', Araujo nuances and expands upon the spirit of an earthly tradition, pointing to contemporary religious, political, and cultural practices in his work.
To read the accompanying Alcove Texts written by Gallery Director James Blaettler, SJ, please click HERE.
Press:
Kathryn Barulich, "From Base to Brim: A Consideration of the Vessel," Trace, the DISSOLVE blog, February 1, 2017.
Marjorie Schwarzer, "Vessels of Memory in the Sculpture of Arturo Araujo," USF Museum Blog, November 28, 2016.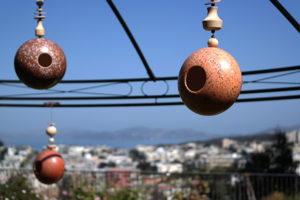 Artist Biography:
Born in Barranquilla, Colombia in 1967. Araujo joined the Jesuits in 1986 and ordained Catholic priest in 1999.  Thirteen years ago he moved to United States and earned a Bachelor of Arts from Seattle University, a Bachelor of Fine Arts from Cornish College of the Arts, and a MFA from University of New Mexico. Currently he is teaching art at University of San Francisco, and works in his own studio: "Inside River Studio", located on university campus.  Araujo combines etching, relief and digital media. Inspired by nature and by the work of Rembrandt, Thavor Ko-Udomvit, and Enrique Chagoya. Araujo creates a work that expresses a contemporary spirituality. His work has been shown in Colombia, USA, Mexico, Italy and Canada.

Artist Statement:
My work is a result of combinations of layers: haunting images that came from free expressions on ink blends with silhouettes of the landscape of "Cienega Grande"; images that came from pictures I took in situ when I visited Colombia.  Imagination and photographic perceptions of the reality collide releasing the shock of the beautiful landscape that has been torn by violence.
I create a space to explore the ambiguity of danger and limitless imaginative depth. I chose printmaking as primary media, not with the purpose of creating multiples, but for multiplying the possibilities of images that can be repeated; and thus, by repeating it can be reconfigured. Literally, the landscape becomes an accumulation of multiple layers of different media: ink drawing, woodblock print, digital print, stamp, silkscreen and hand painting.  Repetition mimics the obsessive grieving memory.
For more information on Araujo, please visit his website.
Installation Shots