Sunday, June 1st | 4 PM
Ali Naschke-Messing's Final Meditation followed by a Special Women's Choir Performance
Please join Ali Naschke-Messing for the final meditation in relation to Thresholds of Faith: Four Entries into the Beyond on Sunday, June 1st at 4pm inside her installation in Manresa Gallery. We will close our 7 month meditation series with songs by members of the San Francisco Chapter of Threshold Choir, a national a capella women's choir who's purpose is to sing for and with people at the thresholds of life.
Join us for the sitting meditation at 4pm, and/or the "singing out" of the installation at 4:35 – as always, please arrive on time. If you plan on only attending the singing portion, please wait in the pews outside the gallery until the meditation is finished.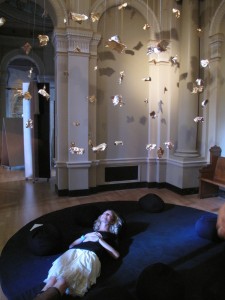 Ali Naschke-Messing will host monthly meditations – both walking and sitting – of different durations. Some days will be "sits" inside this site-responsive installation; other days will be walks through St. Ignatius Cathedral in the under-seen parts of the church. Participants will be taught simple techniques to awaken awareness of body and place. She invites people to explore presence at its core, within and without.
/////////////
The original light, blazing through your skull
and how does light fall into your body?
from many points to many others, large and larger.
(yes, she said, light lines being the same as psalms)
the flow of speech, as it were, in a straight line,
for a stringed instrument.
Naschke-Messing is primarily a site-responsive installation artist. She creates spatially quiet moments and reminds us to look carefully at what surrounds us. This installation extends the gold leafed dome, inverting the emanating source of light. Ali questions the traditional religious trope of light portrayed as descending from the heavens and creates an inverted conic form, inspired from the light that emanates from all life. The floating gold leaf fragments can be seen as coming from above and below, constantly turning and responding to air currents via breathe and movement. On the floor is a custom made "zabutan," or cushion, for people to lie and sit upon. The black bolsters will be used as supports for sitting meditations that she will host throughout the exhibition. Gallery visitors and parishioners may use this space for contemplation and rest.
This work draws attention to, and extends, the already existing beauty inherent to the site at St. Ignatius, highlighting that which is already present, but often goes unseen. The attempt to describe the indescribable is a theme in Ali's work and comes from her connection to that which underlies and comprises all experience.
///
Ali Naschke-Messing is a native Californian, currently living in San Francisco. She holds a BA from Sarah Lawrence College, and an MFA from California College of the Arts, with a focus in textiles. She was awarded an Affiliate Artist position at the Headlands Center for the Arts from 2011-203, was selected as an Emerging Artist by the Marin Museum of Contemporary Art in 2012, and was an Irvine Fellow at the Montalvo Arts Center in 2010. She has recently shown at ProArts, Artadia, Marin Museum of Contemporary Art, San Jose Institute for Contemporary Art, Montalvo Arts Center, The Headlands, College of Marin, and San Francisco State University.