IGNITE!
SPRING 2018
Originally conceived as an installation in the Basque region of Spain by the design and artist group Atelier Laia, IGNITE! will be installed in Saint Ignatius Church, San Francisco. This installation involves candles that represent Saint Ignatius and his life, as well as installation of texts, that aid in reflection. IGNITE! will be activated in Manresa Gallery, marking its first United States exhibition and relating to the patron saint of the church.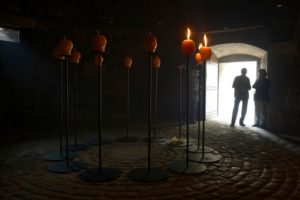 Beauty Given by Grace: The Biblical Prints of Sadao Watanabe
Summer 2018
Manresa Gallery will present a Christians in the Visual Arts (CIVA) traveling exhibition, Beauty Given by Grace: The Biblical Prints of Sadao Watanabe, featuring original works of graphic art by Japan's foremost Christian artist of the 20th century. Born in 1913, Watanabe devoted his life to depicting the stories of the Bible in a visual language understandable to the Japanese. He used a traditional technique for dyeing textiles with hand cut stencils from the Okinawa Islands to make prints on paper. When Watanabe died in 1996, he left behind a visual legacy unique in contemporary sacred art. This exhibition is a follow-up to the Ricci Institute exhibition, The Samurai and the Cross (closing March 10, 2018).