The Samurai & the Cross: Life & Death in Christian Japan
December 3, 2017 – February 23, 2018
Working with the University of San Francisco's Ricci Institute for Chinese-Western Cultural Histories, Manresa Gallery will host an exhibition of objects relating to Martin Scorsese's 2016 film, Silence. The plot follows two Jesuit priests who travel from Portugal to Japan to locate their missing mentor and spread Catholic Christianity. The story is set in the time when it was common for Christians to hide from persecution following the suppression of Japanese Roman Catholics during the Shimabara Rebellion (1637–1638) against the Tokugawa shogunate. The exhibition includes many unique, historical objects used during this fascinating period in Christian history.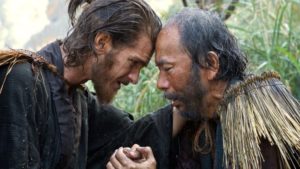 IGNITE!
SPRING 2018
Originally conceived as an installation in the Basque region of Spain by the design and artist group Atelier Laia, IGNITE! will be installed in Saint Ignatius Church, San Francisco. This installation involves candles that represent Saint Ignatius and his life, as well as installation of texts, that aid in reflection. IGNITE! will be activated in Manresa Gallery, marking its first United States exhibition and relating to the patron saint of the church.