EVENT ANNOUNCEMENT: Please join us for a lecture and reception, Tuesday February 27th at 5pm. Exhibition curator Antoni Ucerler, S.J. will be discussing the current exhibition. Reception to follow in gallery at 6pm.
Presented by the University of San Francisco's Ricci Institute for Chinese-Western Cultural History
December 3, 2017 – March 6, 2018
The Samurai & the Cross: Life and Death in Christian Japan, 1549-1650

A few years after Portuguese traders first landed on Tanegashima island, the Jesuit missionary, Francis Xavier (1491–1552), set sail for Japan in 1549. He arrived in the midst of the "Warring States"—a turbulent period of civil war that ended in 1600, when Tokugawa Ieyasu (1543–1616) unified the country. This exhibit displays rare artifacts from the University of San Francisco Ricci Institute's collections that tell the story of Japan's initial encounter with Christianity, the crisis that culminated in its prohibition in 1614, the subsequent decades of persecution, and the survival of the "hidden Christians" who continued to practice their faith in secret for over two centuries. Despite the prohibition, Christian books composed and printed by the Jesuits in China were imported into Japan both legally and illegally in the 17th and 18th centuries. These books arrived aboard the ships of Chinese merchants engaged in trade at the international port of Nagasaki—which remained a unique bridge to the world beyond the shores of Japan. This unique story of faith and resilience was made known to a wider audience last year with the release of Martin Scorsese's film, Silence, based on the 1966 novel by Japanese Catholic writer, Shusaku Endo (1923-96).
Regular Gallery Hours: Tuesday through Friday 1 – 5pm
Sunday 9am – 2pm, between Masses & by appointment
Contact: manresagallery@gmail.com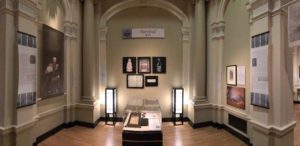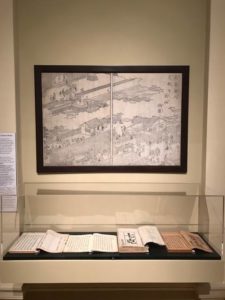 ---
The Ricci Institute for Chinese-Western Cultural History at the University of San Francisco is an internationally renowned research center for the study of Chinese-Western cultural exchange. With a focus on the Jesuit missions of the 16th-19th centuries and the history of Christianity in China and East Asia, the Institute supports research in a diverse range of interests: in Chinese and East Asian history and relations with Europe, on the influences of China and Europe on each other, on religion and culture and philosophies of East and West, and on the sciences, technology, astronomy, cartography, and medicine. Visiting scholars from around the world meet here to examine these and many other topics in languages as widespread as Latin, Portuguese, Italian, French, or Spanish to Chinese, Japanese, Korean, or Manchu. We regularly host meetings, symposia, conferences, and workshops, and every Summer our visiting scholars and research fellows-in-residence speak at our weekly research seminars on their topic of study.

Painting by Chinese brother Emmanuel Pereira (born Yu Wen-hui) of Matteo Ricci, 1610. Macau Museum of Art.